---
---
This year for AR we are going to work on becoming Jedi Reading Masters. We have the same point system as last year. K-2 will begin with being recognized for 10 points on the morning news and have their names placed on the reading master wall. 3rd, 4th and 5th grade students will begin being recognized on morning news and reading master wall at 25 points. Everyone is recognized for 25, 50, 100 and 200+ as reading masters on the reading master wall and the morning news. We will also recognize reading masters at each assembly. We will again have a Jedi celebration for all students with 100 or higher points at the end of the year. I am excited to see our students becoming Jedi Reading Masters!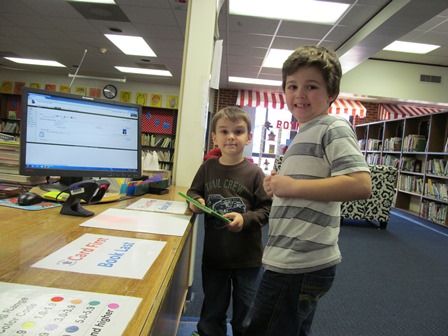 We work hard to promote reading and make learning fun! Parent volunteers are always welcome and much needed.

---
We have a very nice and inviting library/media center for the students to come and check out their books, do research for their projects by using books and online resources, or to read for pleasure. We have over 18,000 items in our collection that includes student and professional materials as well as many audio-visual items and current magazines.
---
Media Center Policies
Check Out Policies
The Media Center will be open and accessible to students from 7:30 am until 2:30 pm. Students need to check in with their homeroom teachers or Ms. Harris in the gym before coming to the Media Center before 8:00 am.
All students are welcome individually or in small groups to check out or return books once a day at any time throughout the day that is convenient for their teacher. Students may renew their books by bringing them to the media center. All students will be given a library card at the beginning of the year. Replacement cost for a lost card is $2.00.
Pre-K, Kindergarten, and first semester First Grade students may check out one book at a time, due a week from check-out, but they may return it the next day and get a new one.
Second, Third, Fourth, Fifth and second semester First Graders may check out two books, due two weeks from check-out, but may return books before that and get new ones.
Overdue notices will be placed in teacher's boxes every two weeks. There are NO OVERDUE FINES, but students with overdue, lost, or damaged books will not be permitted to check out another book until the book is returned, renewed, or payment has been made.
Students are financially responsible for lost or damaged books.
If a student pays for a lost book, and it is later found, the payment will be refunded.