---
---
This year for Accelerated Reading we are going to drive our way to becoming great readers. We will again have a pool party for students who get 100 or more A.R. points for the year. We encourage all students to read within their "reading range". Research shows that students that read regularly within their reading range and score an average of 85% or higher on A.R. test make higher gains in reading than students that do not.
Every book in our library is coded with a colored dot. This dot indicates the reading range of that book. Students also have these color coded dots on their library cards. This makes finding a book within their reading range easy. At Boynton we are committed to making students the best readers they can be.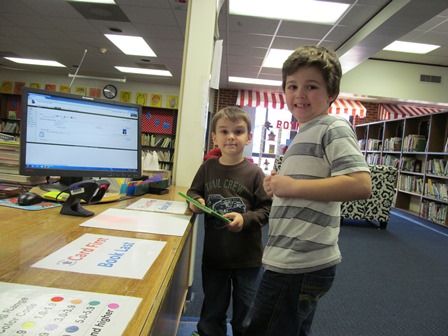 We work hard to promote reading and make learning fun! Parent volunteers are always welcome and much needed.

---
We have a very nice and inviting library/media center for the students to come and check out their books, do research for their projects by using books and online resources or to read for pleasure.
---
Media Center Policies
Check Out Policies
The Media Center will be open and accessible to students from after announcements each day until 2:30 pm.

All students are welcome individually or in small groups to check out or return books once a day at any time throughout the day that is convenient for their teacher. Students may renew their books by bringing them to the media center. All students will be given a library card at the beginning of the year. Replacement cost for a lost card is $2.00.
Pre-K and Kindergarten may check out one book at a time, due a week from check-out, but they may return it the next day and get a new one.
Second, Third, Fourth and Fifth may check out two books, due two weeks from check-out, but may return books before that and get new ones. We ask that each student in grades 3-5 check out 1 chapter book and 1 picture or nonfiction book within their reading range.
There are NO OVERDUE FINES, but students with overdue, lost, or damaged books will not be permitted to check out another book until the book is returned, renewed, or payment has been made.
Students are financially responsible for lost or damaged books.
If a student pays for a lost book, and it is later found, the payment will be refunded.