Great things are growing at Boynton Elementary
Boynton Elementary students planted a garden during the spring and now they are reaping the results. The first harvest came in for students to pick and share with our school cafeteria. The cafeteria is going to incorporate the harvest from the garden into the menu for all students to see and share. Through this project, students are learning the entire growth process from seed to plant to table. Flowers were planted to help with insect control. Boynton students love to keep up with the progress of the garden each week to see the changes made throughout the seasons. Matt Hensley, Greta Giglio and Nancy Masengil are the teacher sponsors for the garden and help the students keep things growing. They worked with students this summer to plant and harvest. Great things are growing at Boynton Elementary.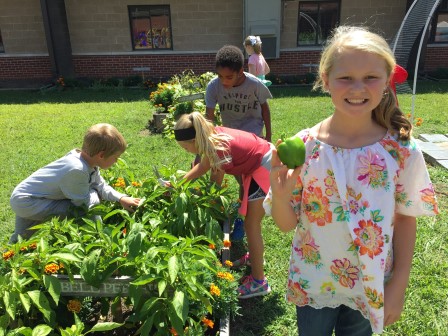 Garden1: Landry White looks on as her peers harvest the Boynton garden.
Garden2: Cooper Chappelear cuts one of the first egg plants.
Garden3: Greta Giglio's class presents the first harvest to Jennifer Scott, Boynton Principal